The Congress of Human Oddities is a sideshow at the Carnival Tourist Loop.
Hollow City
Edit
It was mentioned in the book Hollow City as a carnival.
Description
Edit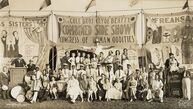 As it was professionally called, the Congress of Human Oddities was a real attraction that began in 1957 when several circuses were suffering from the economic plummet. While other circuses around this time were switching from tents to indoor arenas, Clyde Beatty and the Cole Brothers united to form their own show and keep the traditional tented layout. In the show's 1957 season, they upgraded from rail cars to trucks and spent the winter in DeLand, Florida. In the late 1960s, some of their performers included the infamous Margaret Anne Robinson aka the "Smallest Woman in the World", Percilla Bejano the "Monkey Girl" and her husband Emmitt Bejano the "Alligator Skin Man", Andy Brisky the fire eater, and sword-swallower Jackie Lynn.